PROJECT SHARING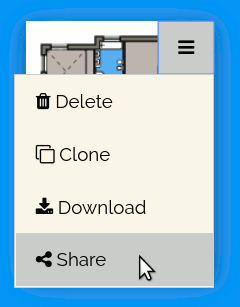 You can let other people open and edit your projects. They do not need a Floor Plan Creator account to use this functionality. A teacher could create multiple projects under his account and give access to students. Homeowner could use sharing to cooperate with an architect during renovation and so on.
Click plan menu button in the gallery and click "Share" option. In the share dialog you can configure whether the person will be able to save changes to your project or not and copy the link to your project.
To stop sharing click project menu button and select "Stop sharing". To change sharing settings or get the link again, click "Edit sharing" option. Please note that each time you start sharing a project, a new link will be generated and the old one will stop working.